Maganizes for Polyglots
Parrot Time* is a FREE MAGAZINE covering language, linguistics and culture of the world around us.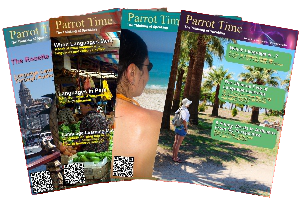 Published every two months, it has had such diverse feature articles as:
Are You Wasting Your Money on Language Classes?
Chatting in Languages Online
Why English Is Different Than Any Other Language
Why Do People Learn Languages?
The Ultimate Fate of Language Learning
Coming Home to Faroese – The Why and How of Learning a Small Language
Religion in Culture
Constructed Languages – Making It All Up
Rohonc Codex, Linear A & B, the Rosetta Stone, the Voynich Manuscript
Speaking with Aliens
When Languages Meet and Conflict
As well as standard columns dealing with:
Language artefacts
Linguist and author biographies
Film and book reviews
Languages in peril
Celebrations from around the world
Etymologies of foods
"Where are you?" monthly contest
Here is the link for the Magazine website: http://www.parrottime.com
16th Issue download it for free: Parrot Time #16
*Important Note: Parrot Time is a product for the Parleremo community and the larger language culture. It is not from My Polyglot or Mello Method Organisation, but despite of this we really recommend and aprove it!